Multiple expertise in one location
When choosing a local dentist or pediatric dentist, you want to ensure they are well experienced and have treated various cases. Also, making sure the office has a strong belief in prevention and total wellness of patients and is respected in the community.
Azari & Zahedi Dentistry is proud to feature a team of two competent specialists who have years of experience in the field. Dr. Zahedi, a board-certified pediatric dentist, has been one of the first women pediatric dentists in the Jacksonville area who has served children of this community with joy and pride since 1995. Dr. Reza Azari is a seasoned prosthodontist with exceptional ability and skill who provides a variety of services to adult patients. You can view the sample of dental work they have provided to their patients, at our extensive Before & After Gallery that is unique in its kind.
Finally, there is an ideal location to offer all services you want for the entire family!
Get Map & Directions.
Technology and Array of treatment options
Coming across an office that provides all the services you need is crucial for choosing the best local dentist and pediatric dentist. For example, you may want a place that does dental cleaning, teeth whitening, and prompt emergency accommodation.
At Azari & Zahedi Dentistry, we offer those services and many more. From preventive care and comprehensive oral evaluation to Prosthodontic services and beyond. We also provide Invisalign and orthodontic treatment, making it easy to coordinate appointments for the entire family. If you decide to establish yourself as an adult patient, it would be an excellent choice in conjunction with making an appointment for your child. We are two offices with a shared appointment scheduling front for maximum efficiency and convenience that benefit our patients without the disadvantages of corporate dentistry.
Our practice employs the most advanced diagnostic and treatment techniques available today, including digital X-ray, digital scanner, laser technology, and state-of-the-art sterilization methods. Digital scanning provides a more comfortable patient experience (no messy impression) while capturing accurate and faster data. It also simplifies the design of crowns, bridges, and dentures, providing better adaptation with superior material properties.
Fotona laser technology is used for sleep apnea treatment, gum recontouring, no-drill, no shot cavity treatment, and many more noninvasive cosmetic procedures.
Azari & Zahedi Dentistry offers affordable denture repair with an on-site lab for fast, dependable service in case of broken denture or retainer.
Azari & Zahedi have perfected the use of the dental laser to improve the outcome and experience of your dental procedures. Grateful patients are delighted with the eliminated need for shots and anesthetic and are pleased to avoid the unpleasant sounds, smells, and sensations endured with a drill.
Benefits of Laser Dentistry
Drill free experience
No anesthetic needed
Virtually painless
Less invasive for faster healing
Most procedures performed with the LightWalker laser do not need numbing, and there is little or no pain and bleeding. After treatment, there is less swelling, and there is less need for medication, creating a much more relaxed and pleasant experience.
---
Experience ultramodern care that is less invasive, virtually painless, and faster healing.
Book an appointment today.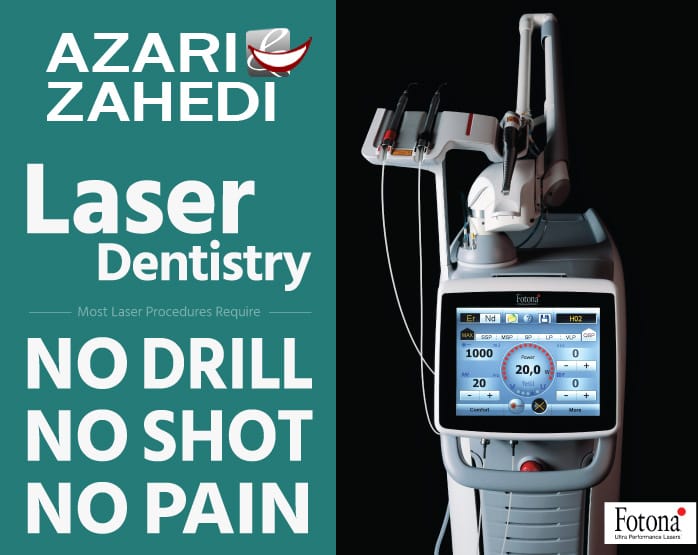 Besides finding a good doctor who delivers superb care and has an inviting office and staff, you should also take into consideration the office's location
Your family comes to and from appointments and these become more recurring if orthodontics is needed in the same location.
We realize the importance location plays in finding your nearby dentist; that is why our office is ideally located in Beach Blvd near the iconic mayo clinic. There are several well-known neighborhood schools and developing communities close by as well.
Our ideal location is accessible from Jacksonville Beaches and the Jacksonville area.
Get Map & Directions.
Best Pediatric Dentistry and Prosthodontic Services to Fit the entire Family
As a team, Dr. Azari and Dr. Zahedi are sensitive to each patient's unique concerns, whether it is a routine check-up, discomfort, dental fears, or aesthetic problem. Their talents lie in using the art and science of dentistry to grow, enhance, and restore healthy smiles!
Contact Us to make an appointment today!