Dental Implants


Prosthodontics
Dental Implant Supported Full-Arch Denture Restorations
Call to Book a Consultation or Second Opinion.
Dr. Reza Azari
and
Dr. Zane Khan
will be working together to offer full-arch dental implant service to our patients.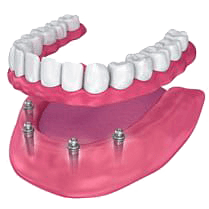 Jacksonville's Finest Natural Looking Dentures
Hello, I am Doctor Reza Azari. Congratulations on taking steps toward a better smile and improved oral health. Over my preceding twenty-six years in dentistry, I have seen the quality of so many lives enriched by a new smile and recovered oral wellness. A healthy smile makes a meaningful improvement in your confidence and your enjoyment of life. I encourage you to book a consultation. Let's discuss your situation and put you on the path to a beautiful, healthy smile.
Rigorous training and years of experience afford Dr. Azari an exceptional understanding of the dynamics of a smile and the preservation of a healthy mouth.
Dr. Azari's sensible approach to restore & replace teeth with implants offers superior function and esthetics. Azari & Zahedi's Dentistry is the best place to get dental implants with an expert team approach.
Dr. Azari's on-site dental lab permits more affordability and the control necessary to achieve the finest, most natural-looking implant-supported denture.
Dr. Azari's team can replace bridges, dentures, and a complete set of lost teeth with dental implants.
Tremendous numbers of people are missing teeth, and some have removable dentures or bridgework. Many people struggle with loose teeth. If you have similar issues, you already know the awkwardness of eating and smiling in public. Dr. Azari can restore your ability to eat your preferred foods and to smile again!
The full-arch implant is an investment in your dental wellbeing. But, first and foremost, it's an investment in you. So please take the time to get all the facts.
---
Are You a Candidate for a Full-Arch Dental Implant Bridge? Find out.
Only a qualified clinician can determine the most suitable implant treatment plan.
Please book a no-obligation consultation to learn about the benefits and risks and find out if implant treatment is suitable to improve your condition.
---
The Benefits of Teeth Replacement with Dental Implants
Eat the foods you prefer while enjoying a better diet and improved health.
No more embarrassment and frustration speaking because of failing bridgework or slipping dentures.
Improved comfort with decreased gum tissue irritation.
No more costly and awkward denture adhesives.
Dental Implant placement can ordinarily be completed in one day.
---
What Is the Full-Arch Implant Procedure Like for Patients?
The implant procedure can be completed in a single visit and can be done under local anesthesia or if you favor sleeping during the surgery, I.V. sedation.
During the procedure, Dr. Khan places several implants into the jaw with abutment posts.
Temporary teeth are then attached to the implant posts or over the gums if your jawbone needs time to heal.
---
After the Procedure
Post-procedure discomfort is ordinarily trivial and temporary. Dr. Khan or Dr. Azari can prescribe pain relievers as needed.
Patients will need to eat a soft diet during the primary healing period. The duration of the immediate healing is dependent on your oral health and commonly varies between three to six months.
For a brief period after the procedure, a medicated mouthwash is used to promote healing. Dr. Azari will likely advise you not to brush your teeth or use a water flosser. In addition, Dr. Azari will advise you on how to maintain your dental hygiene to promote a successful treatment outcome.
---
How much do Implant-supported Full-Arch Restorations Cost?
The cost for this type of implant-supported denture can vary quite a bit. The price depends on the doctor's experience, the patient's oral health, and the quality of materials used in the restoration. Poor dental health requires more numerous treatments. Teeth extraction, often covered by dental insurance, can boost the price as well.
Dr. Azari can fabricate dentures from different materials, including zirconia, composite resin, porcelain, acrylic resin, and acrylic. Acrylic and porcelain are the most common. Top-tier dentures require more labor and use more expensive materials like highly translucent zirconia.
Restorations made of zirconia are more robust than porcelain-fused-to-metal (PFM). In addition, zirconia restorations are naturally beautiful, transmitting the color of neighboring teeth, and can be color-matched to any shade of existing teeth.
Choosing the best material for your denture teeth is essential, as it affects their wearability and comfort. Dr. Azari will guide you through your options and provide the most suitable alternatives for your budget.
Please book a no-obligation consultation to learn about your options. Call Today!

CALL: 904-992-8900