It's that of year… love and happiness is in the air! It's also a month that brings awareness to big topics. February is Children's Dental Health Month and American Heart Month (AHM). While many of us have kids, we all have hearts, so let's talk about that. Our heart is the most vital muscle in our body and can become quite vulnerable.
One main topic that we can focus on during this month is the battle against heart disease. Heart disease doesn't have a clear definition because there are different forms. It is a range of conditions and disorders that affect the heart. The most common form in the United States is coronary artery disease (CAD). This is when arteries that supply the blood to the heart start becoming hardened and narrow due to a buildup of cholesterol, which is also known as plaque. If CAD is not treated, it can lead to major health issues like heart attacks, stroke, heart failure, and an irregular heartbeat.
Some of the most common risk factors for heart disease include:
High cholesterol
High blood pressure
Diabetes
Poor diet
Obesity
Cigarette smoking
Excessive alcohol consumption
While there are many forms of heart disease, they all share common symptoms, and the warning signs are all the same. It's very important that we are aware of these symptoms in case of an emergency or much-needed treatment. Symptoms that we should be aware of include:
Chest pains
Shortness of breath
Sweating, cold sweats
Pain in the upper body, arms, back, neck, jaw, or upper stomach
Fatigue
An irregular heartbeat or increased heart rate
Sounds scary, but it's only scary if we do not take care of ourselves. Either preventing the occurrence, or for many of us, acting as soon as we become aware of the signs. For a lot of people, risk factors can develop because of our environment and family history. For example, high blood pressure and high cholesterol are the two most widespread health concerns that we have in America. Those are the two big factors that will increase the chances of having a stroke or developing heart disease.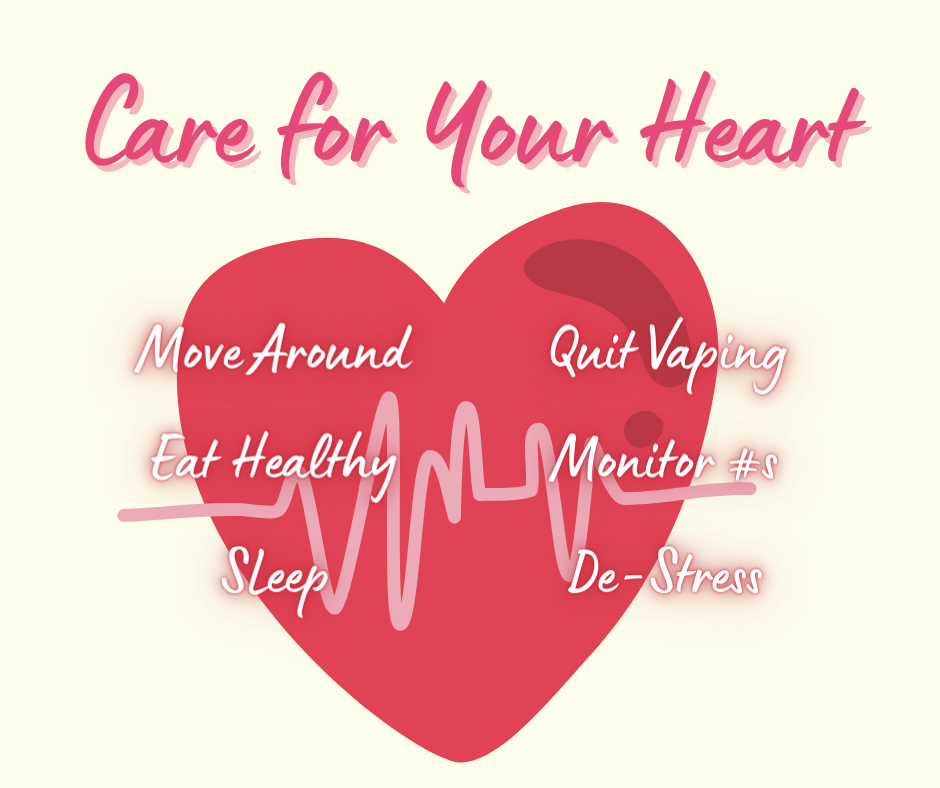 Statistics show that heart disease risks do increase as we get older, which means that our loved ones who are a lot older than us could be more at risk. Starting from an early age, we can try to keep our hearts healthy in a lot of ways. But here we are now! We need to start making changes in our everyday lives. Here are examples of real actions to get us started:
Move Around (exercise): Physical activity is a great way to improve heart health. The American Heart Association recommends that we should exercise for at least 2.5 hours per week to meet the basic requirements. Uncomfortable jogging the neighborhood? Don't want to go to the gym? Pace your hallway, take extra trips up and down the stairs, you can do this!
Quit Vaping (quit smoking): It's time. There are a lot of benefits to living a smoke-free life, such as reducing the risks of developing certain types of cancers and improvements in circulation. For chronic smokers, you can expect to see an increase in your lung capacity in as little as two weeks!
Eat Healthy (whole foods, limit sugar): Limiting ourselves from eating saturated fats, salt, and food that has high cholesterol will do our hearts a big favor. Shopping the perimeter of the grocery store is your best bet for keeping your fridge stocked with fresh, healthy ingredients. Pro Tip: frozen veggies are a great time saver!
Watch Your Numbers: Get regular check-ups to monitor health conditions that could affect your heart like high cholesterol, high blood pressure, and diabetes.
Sleep: Sleep is very beneficial, as we all know. Always getting a good night's rest helps the brain and immune functionality, metabolism, and emotional well-being. Pro Tip: set an alarm… to go to bed.
De-Stress: A lot of stress will eventually impact the heart negatively, which can result in heart disease. To combat stress, find healthy outlets to relieve it, that will lower the risks of getting heart disease. Some of our favorites include reading, walking the dog, taking a long bath, stretching on the floor while binge-watching old TV shows.
For the month of February, let's try to focus more on our hearts, not just for Valentine's Day but for our overall health. American Heart Month should be used as a reminder for us to take care of our bodies and our health as we age, to reduce the risks of developing heart disease or any other health conditions. It's never too late to start taking care of our bodies the right way, let's start today!